As a major producer & supplier of packaging products, we have been serving the needs of many industries including retail packaging, cargo protection, chemicals, pharmaceutical and more. We have thorough expertise and deep knowledge of the industrial processes, which allows us to offer the best quality products at very competitive prices. Working with the concepts of innovation, safety and effectiveness, we have become a trusted figure in the marketplace.
At
Parnam Ji Creation
, we meet your critical packaging needs and protect your goods from moisture, particles, static, corrosion and oxygen etc. We have a comprehensive product range, which includes
White Silica Gel, Silica Gel Crystals, Silica Gel Desiccants, Silica Gel Packets, Clay Desiccants, Molecular Sieves and Anti Mold Stickers
. We help you in shipping goods across changing climatic conditions and provide affordable forms of transport protection.
Applications
We offer Silica Gel in various kinds, grades and specifications. It is applicable in many industrial and commercial areas, such as:
Drying / Cleaning Of Air & Gases
Drying Of Solvents & Analytical Samples
Drying Of Synthesis Goods
Protection Of Export Cargoes From Moisture
Storage Of Seeds & Flowers Etc.
As Desiccant In Gas Industry
Steel Refinery & Oxygen Plants
Used as Dehumidifier, and in Chemical Analysis.
Quality Focus
Committed to the highest quality standards, we keep up with all prospects of a qualitative production. We manufacture effective
Silica Gel, Silica Gel Crystals, Silica Gel Desiccants & Anti Mold Stickers
. There is a right mix of finest inputs, proven methods and modern technologies. We do a regular check of products during the production, and post manufacture. Also, we use non-toxic ingredients and safe material that are environment friendly. We maintain global standards, and are working with all leading industries.
Advantages of Our Products
Our range of high-performing and affordable packaging products has various advantages, such as:
High Absorbing Nature
Environment Friendly
Leakage Free
Fit for Maritime Environment
DMF Free & Non Toxic
ISO Certification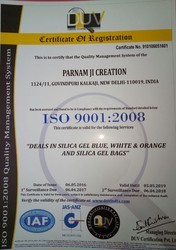 Read More